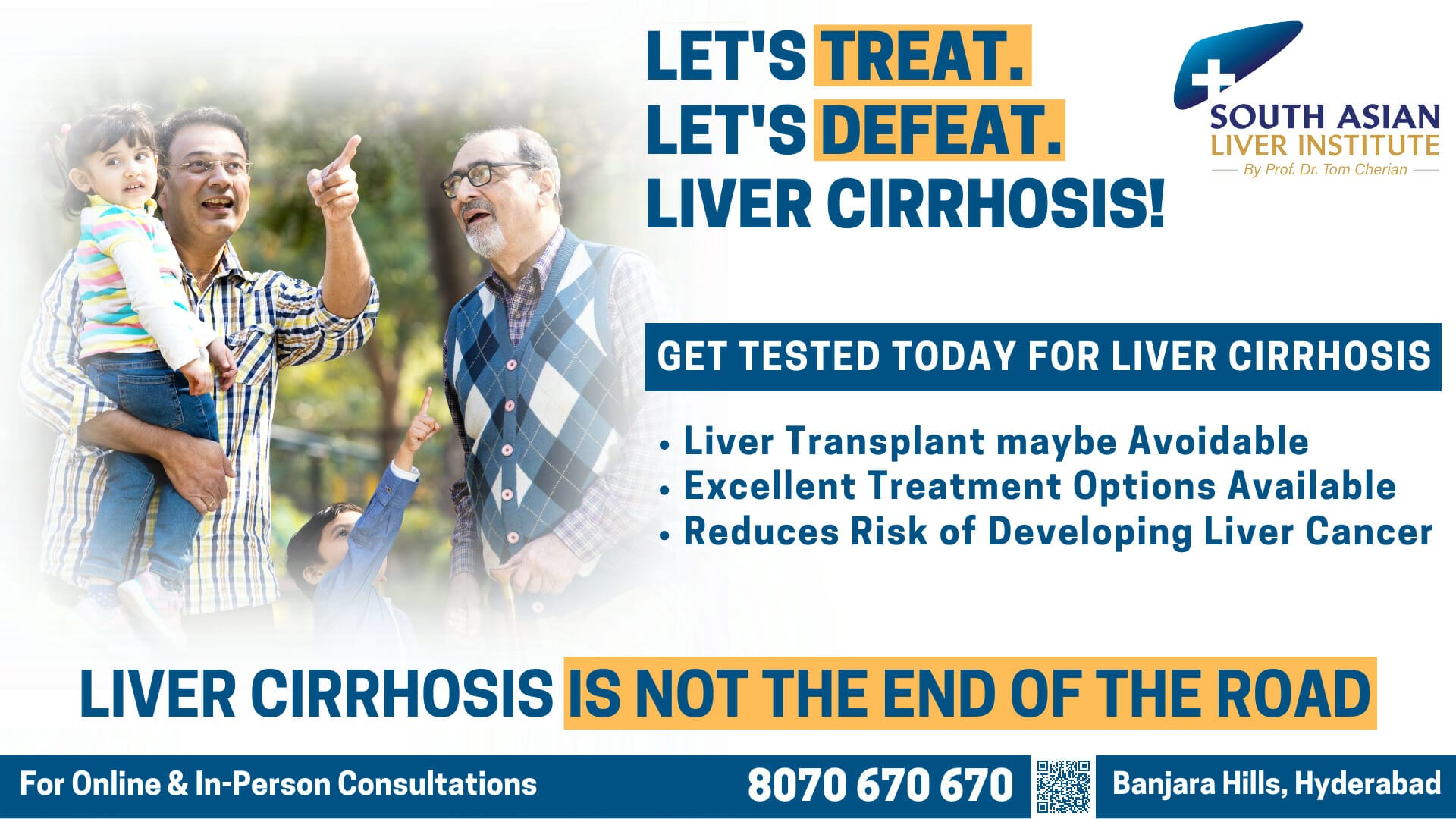 SERVICES
Liver Cirrhosis Treatment
The Only Private Liver Institute in India
We are the only private institute in India dedicated to patients with liver disease.
Experience with Complex Surgeries & Treatments
Our highly experienced team of surgeons, physicians, and nurses ensure an unmatched success rate for patients with liver disease.
Comprehensive Post-Treatment Care & Follow-Up
We ensure that all our patients have regular follow-ups with our physicians, nutritionists, and physiotherapists.
Outreach Centres Across India
We have outreach centres across the country, making it easy for families to attend follow-up clinics.
What is cirrhosis? What really happens?
Cirrhosis is a process where the liver tissue is replaced by scar tissue. It is a gradual process. The scar tissue affects the normal structure of liver and the regrowth of liver cells. This results in its decreased function. The scar tissue also affects how the blood flows within the liver. This leads to an increase in back pressure leading to a condition called portal hypertension. At this stage the patient is at high risk for life threatening bleeding.
Cirrhosis may take years to develop and can do so with out any symptoms until liver damage is very serious. In most cases over 80% of liver is damaged before symptoms appear. This damage is due to ongoing injury to the liver tissue caused by various factors such as:
Chronic viral infection
Excessive alcohol consumption
Fatty liver and many others
Initial symptoms are:
Unusual tiredness
General weakness
Nausea
Loss of appetite
Itchy skin
Menstrual irregularities
Loss of sex drive, etc
As the liver condition gets worse and reaches the stage of Decompensated liver disease, the patient develops one or more of the following symptoms:
Yellowing of the skin and whites of the eyes (jaundice)
Vomiting blood
Dark, tarry-looking stools
A tendency to bleed or bruise more easily
Swollen legs (odema) or tummy (ascites – Water logging in abdomen)
Confusion
Liver cirrhosis treatment involves taking detailed history and conducting a thorough examination of the patient following which we will do the blood tests and scans that aim to detect both extent of liver disease and the condition of other organ systems. Certain special blood tests and scans like CT/MRI would be recommended for specific conditions. With the results of the above a personalized treatment plan will be charted. This will include, medications, dietary optimization, vaccinations and if required planning for a transplant.
Regular follow up is extremely important as we have to optimize the dosage of drugs depending upon the response. Follow up is also essential to identify cases that fail to respond or deteriorate on medical management. Early identification of the cases that fail medical therapy is important. In order to give patient the best possible outcome transplantation should be recommended at the right time.
How to prevent chronic liver disease?
Prevention of liver disease is really avoidance of any of the factors that could damage the liver including decreasing or avoiding alcohol, ensuring you are the correct weight for your height etc.
Early treatment of viral hepatitis (Hepatitis B & C) will go a long way in preventing CLDs. If you have not got hepatitis B ever, you (we all) must get vaccinated against Hepatitis B so that we cannot get the disease even if we get exposed to it.
On the other hand many medications can harm the liver and hence avoid hepatotoxic medications. For example:
Avoid unnecessary use of iron supplements except in iron deficiency anaemia.
Severe and sudden weight reduction diets can harm the liver.
If I have cirrhosis, what can I do?
Cirrhosis is a chronic disease and as discussed above it is progressive and requires careful management. Regular visits to the doctor are necessary to ensure that medical therapy is optimal. At South Asian, these visits will include a few blood tests and an ultrasound scan (at regular intervals). This enables early diagnosis of any new complications that can occur including liver cancer. Patients should be on correct medical management if cirrhosis is well compensated and if decompensated already, they must undergo work up and plan for a liver transplant.
Follow your doctor's advice regarding medications and report any troublesome side effects. Ensure that you are compliant with the prescribed diet and fluid intake. Report to the doctor if you develop any new complications. Moreover it is imperative that you inform South Asian of any "alternative medical therapy" that you wish to take. Some of these medications can have an adverse effect on the liver and can accelerate liver failure if you are already cirrhotic.
What do we do different for patients with chronic liver disease?
I think we are different in the entire management of a liver patient till under going surgery and even after. What do we mean? Well let us give you an example, if someone comes to us with end stage liver disease, unless they are very sick and in danger if delayed, we will institute best medical management and simply observe the patient for several weeks & months if possible, to ensure there is no chance of improvement without transplantation. This is the opposite of what most people think happens in a transplant center!! I hope you will find that to be true once you visit us when you will see that a personalized attention to detail is what sets us apart.